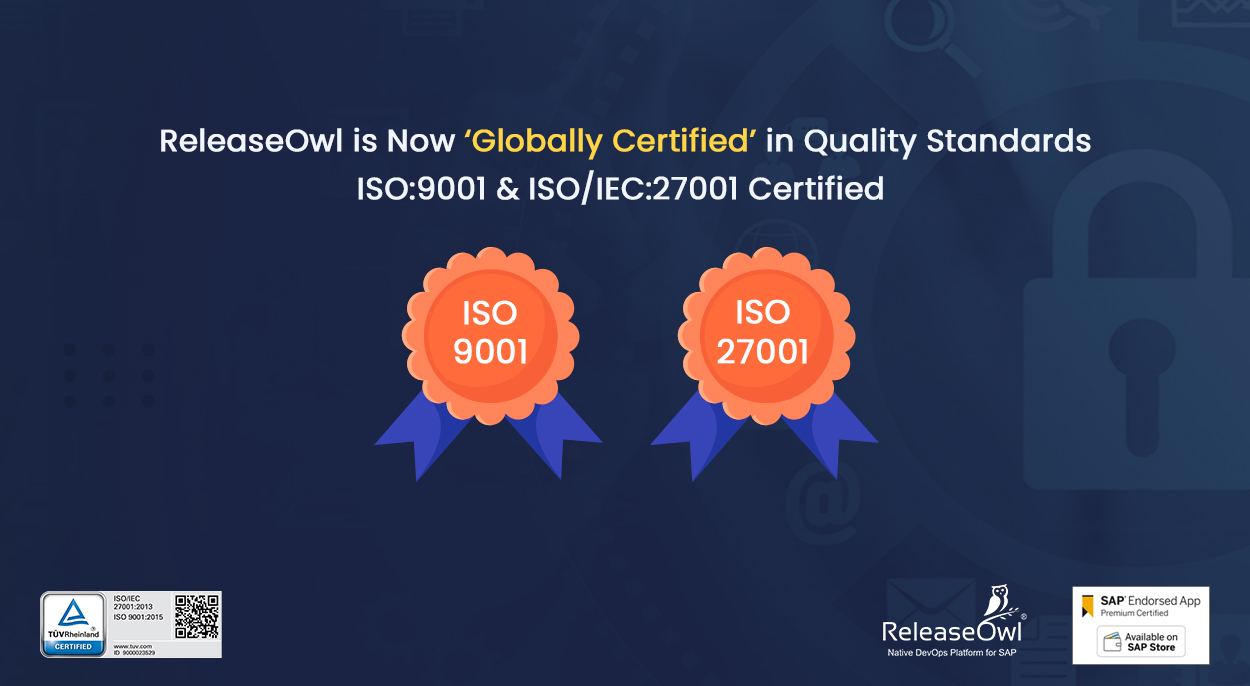 We at ReleaseOwl are proud to announce that we've achieved the significant honor of receiving ISO-9001:2015 certification for our Quality Management Systems (QMS), and ISO-27001:2013 certification for our Information Security Management System (ISMS).
This certification is a testament to our commitment to high standards of quality and the continuous betterment of our business processes. Quality and timely delivery continue to remain our highest priority and our repeat customers and high customer satisfaction bear testimony to this.
With ISO 9001:2015, ReleaseOwl can demonstrate compliance on the following seven quality management principles:
Leadership
Customer Focus
People Engagement
Process Approach
Improvement
Relationship Management and
Evidence-based Decision Making.
ReleaseOwl's ISO 9001:2015 and ISO 27001:2015 certification's scope extends to the following areas:
Native DevOps Product Development, and
Operations on SAP Platform
The new standard is much more than a mere enhancement of the old QMS. It is based on several quality management principles, with the expectation that the top management will provide leadership, focus, and measurement with the highest customer-centric approach. To become ISO 9001 compliant, ReleaseOwl underwent a rigorous evaluation process that included QMS development, a documentation review of management system, audit, and initial assessment, which was very successful, with absolutely no non-conformances. Hence, the certification will be a significant ingredient in our incessant pursuit to deliver innovative and high-quality products and services.
In achieving compliance with the standard requirements, we selected a reliable partner – TUV Rheinland Cert GmbH – a global leader in testing, inspection, and certification, who reviewed our management system and provided certification to the standard as an independent third-party specialist. This certification provides our clients with independent assurance that our commitment to quality is at the core of everything we do.
ISO/IEC 27001 is a globally recognized certification for providing requirements for an Information Security Management System (ISMS). The incorporation of this standard enables organizations of all kinds to manage the security of assets such as financial information, intellectual property, employee details, or information entrusted by third parties.
The ISO 9001 and 27001 certifications prove that we possess robust, distinct, and transparent procedures in all our business areas such as R&D, production, supply chain management, risk management, document, and data handling.
About ReleaseOwl
ReleaseOwl is the leading Native DevOps platform for SAP applications built on-premise and on BTP. It is also the first DevOps platform offering support for backup and rollback of CPI content. It helps define, orchestrate, and automate the Release Management process for SAP.
ReleaseOwl serves as ONE platform for automated packaging, deployment, testing, and compliance of SAP Applications. It not only supports your current investment on SAP on-premise, but also enables you to migrate to SAP BTP with ease, and accelerates your application development on SAP BTP.