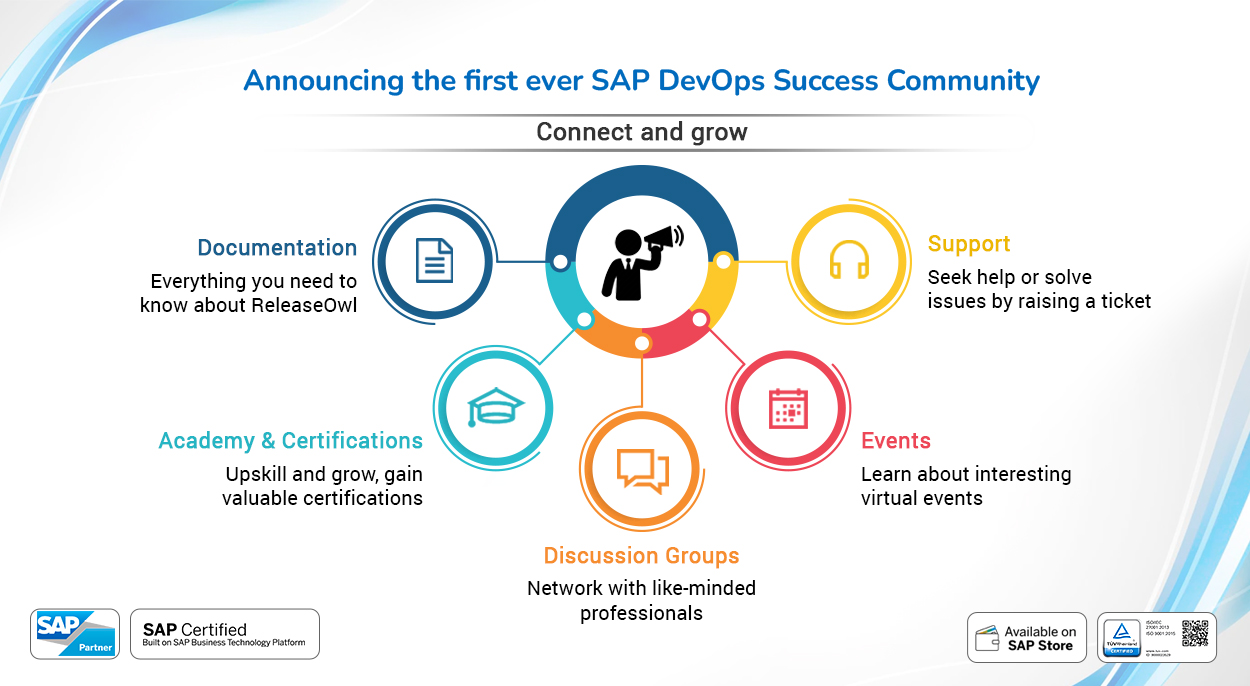 ReleaseOwl Success Community
We are proud to announce the launch of ReleaseOwl Success Community – a place where SAP DevOps professionals can learn, grow, network, and collaborate. We are building a platform where people can ideate, share, and learn; all in at one place. The Success Community is aimed towards helping professionals grow and succeed using DevOps principles in their SAP development.
While the platform is meant to be ever-evolving and adapting to the needs of our community, we have launched it with some exciting features:
Documentation:
Here you will find everything you need to know about our product. It includes an admin guide and user guide that delves into every module and detail of ReleaseOwl.
Academy and Certifications:
With five different courses, you will have a well-rounded understanding of SAP and DevOps in SAP. The certifications available to you are DevOps Professional (SAP On-premise), Integration Specialist, DevOps Expert, Cloud DevOps Professional (SAP CPI/IS), and Cloud DevOps Professional (SAP BTP).
Discussion Groups:
A forum meant solely for SAP DevOps professionals that can be used to share challenges and exchange solutions. Share your thoughts, ask questions, answer other users' questions – it is your clean slate to fill. These groups will form the foundation of the community that we build together.
Events:
Never miss another interesting opportunity to learn. A schedule for all relevant upcoming virtual events, webinars, and gatherings centered around the DevOps for SAP.
Helpdesk:
If you ever run into issues or doubts while using ReleaseOwl, this will provide a quick and easy way to reach our support team and explore FAQs. At ReleaseOwl, we don't want you to ever be left hanging!
ReleaseOwl Success Community is a one stop shop for all your ReleaseOwl and SAP DevOps needs. Whether you have a question, want to learn something new, have run into a problem, or would simply like to share a thought with your peers, we have you covered! Sign up with us today and explore the wide world of ReleaseOwl and our new but growing community. We look forward to meeting, learning, and growing with you!